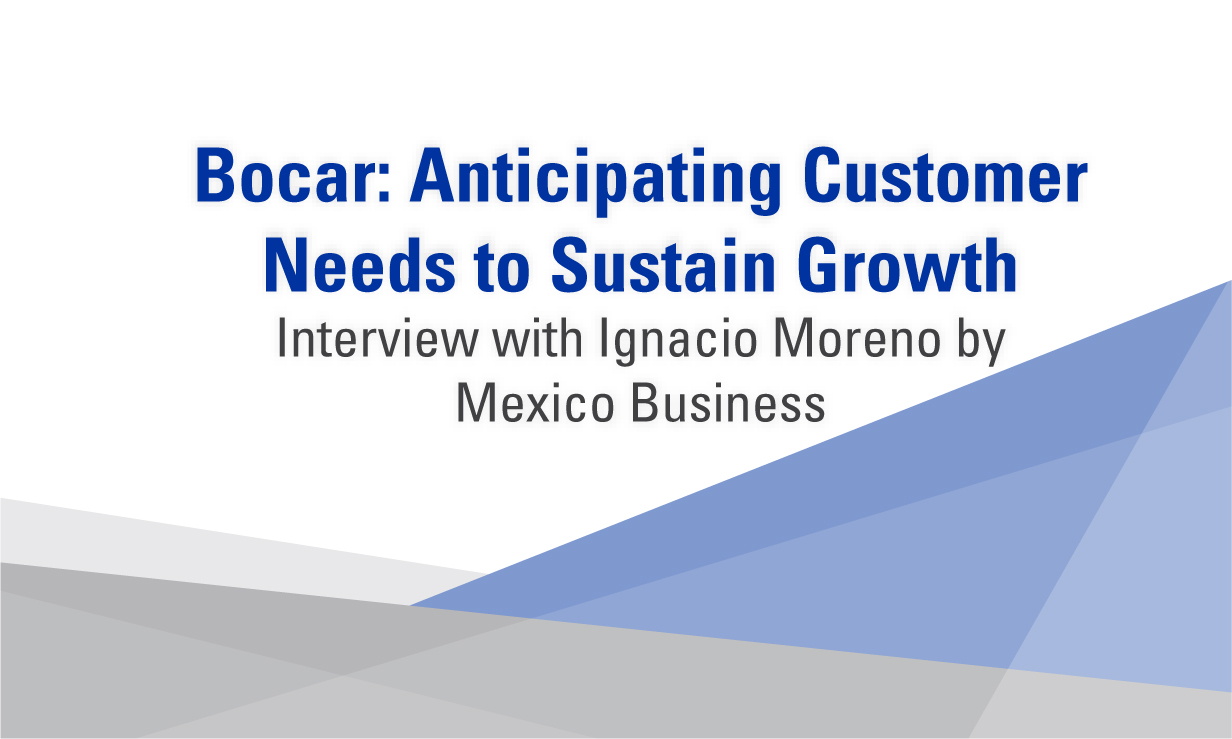 Bocar: Anticipating Customer Needs to Sustain Growth
By Mexico Business, Alejandro Enríquez
Q: What values have allowed Bocar Group to remain a market leader for decades?
A: Bocar Group was founded more than 60 years ago by Mr. Federico Baur. Over the years, the company has lived by its core values and principles. People are the company's main asset and all our employees follow our values as well as our primary concept of discipline, order, and cleanliness. The Baur family continues to play a fundamental role in the company, keeping us on the path of success set by our founder. We have built a successful relationship with our customers and created a diverse customer portfolio based on win-win relationships.
Q: What is the extent of Bocar Group's manufacturing footprint?
A: Bocar Group has three business divisions: high pressure die casting, semi-permanent mold, and plastic injection molding. We have production plants in Huntsville, AL, Chihuahua, Saltillo, San Luis Potosi, Queretaro, Mexico City, and an industrial complex in Lerma, which concentrates five plants.
In Lerma, State of Mexico, we also have a training center focused on the newest technologies related to our products and processes. Every employee must complete a training program in this center before assuming their role. We believe in dual education and adding value to our products through our people.
Apart from our manufacturing footprint, we have offices and centers abroad including a distribution center in Tennessee, sales and engineering offices in Detroit, San Francisco, Yokohama (Japan), a Technical Center in Germany, and procurement offices in China.
Q: How will USMCA's new rules of origin influence aluminum processes?
A: Opportunities are similar due to our diversified portfolio. We supply OEMs in the US, as well as European and Asian companies based in the US. Our main market is in North America, so the fact that USMCA has been signed provides us with certainty about the future of our operations and the future economic growth of the region. Risks remain low as long as we comply with the norms established in the agreement. Compliance has allowed us to maintain our position in the market and to look forward to new opportunities for expansion.
Q: How did Bocar Group embrace the effects of the pandemic?
A: In the beginning, the situation was complicated for everyone. In March, the US started to close its borders and at that very moment, we decided that our priority was our employees' safety and well-being. We obeyed all the guidelines set by the Mexican and US governments, which was interesting because, at one moment, the auto industry in the US was deemed essential while in Mexico not. This, however, changed when different organizations and the US government approached the Mexican government seeking this definition for the industry. 
Fortunately, we prepared ourselves for the crisis by having enough stock available for our customers, which allowed us to maintain supply even though operations remained suspended. When lockdown guidelines became effective, we took all the necessary measures to protect our facilities and make them safer for our associates. We implemented state-of-the-art sanitary protocols to resume operations and we were among the first companies to be cleared by IMSS to go back to work.
We handled the crisis effectively. However, we have noticed in the last couple of months a considerable increase in the number of contagions. Nevertheless, Bocar Group has the capabilities to endure the peak of the crisis, avoiding supply chain disruptions for us and our customers.
We are proud to be among the few who have been able to overcome this crisis by establishing these guidelines and strategies, and we did it by making everyone's health a top priority, and our customers are thankful for that.
Q: How are you participating in the development of CASE vehicles?
A:  With the incoming US administration, the trend towards electric and hybrid vehicles will increase considerably. Our strategies are also heading in this direction. Most of our customers have announced billions in investments in electric and autonomous vehicles as a standalone or through a partnership. This has driven us to take part in this trend. We are anticipating their requirements and maintaining close contact with their engineering departments during the early stages of the R&D process. CASE vehicles are a reality and they are coming at a fast rate. We take this seriously, not only at our plant in the US but also at our plants in Mexico.
One of the activities we focused on in 2020 was to continue adding value to our customers through our advanced engineering activities. We developed and launched our APPD (advanced process and product development) department to work alongside our customers on their technological developments while providing them with technical solutions that best meet their needs. We already take part in the development of electric and hybrid vehicles and by diversifying our engineering operations we will go further.
We have very aggressive plans for 2021, such as integrating different engineering teams to analyze new elements of mobility to incorporate this into our product development and design processes. We want to be strategically placed in our customers' minds to maintain and strengthen our position in all the markets where we are present.
Q: What advice would you give to Tier 2 companies trying to escalate their business?
A: Tier 2s need to be close to their customers and understand the trends influencing them. We ourselves are a Tier 2 in some products. Besides the transparent relationship with our customers, we understand the needs of OEMs and accompany them in the adventure of finding the best technological solutions at the right cost, with the quality they are looking for. Anticipation and foresight help us translate those needs into our processes, allowing us to react and adapt quickly to sustain our position in the market.
Q: How has Bocar Group experienced growing concerns regarding the carbon footprints of manufacturing facilities?
A: At this moment, we are in the early stages of this trend. It is really important for us to focus on sustainability and that is why we have a team dedicated solely to make our processes and products more sustainable. We are going to monitor this through external audits to identify opportunity areas and address them.
Q: What are Bocar Group's priorities for the near term?
A: Our top priority is health and safety. We have to endure any new peak of contagions, and if we do not prepare our people and protect them, we won't be able to move forward.
Our second priority is on our advanced engineering departments so that we make the most out of new opportunities. We will continue to ensure operational excellence at our plants. We make a living from manufacturing high-quality products at competitive costs. Our quality system is robust enough to prevent future risks. By keeping in close communication with our clients and understanding what they are going to focus on over the coming years, we will define our own role to make the most out of it.
Our current products will eventually evolve accordingly and as a company, we have to anticipate those changes to hold our position in the market.
Q: What opportunities can the Mexican automotive industry take advantage of this year?
A: Engineering and design are great opportunities for the country. We have capable engineers who can support these efforts but we have to educate them to embrace engineering. In this way, we could advance from being a country with solely high-quality manufacturing to being a country that also contributes to product development. Tooling development also remains an important opportunity.
And of course, we must also capitalize on all the benefits introduced by USMCA.
Bocar Group is a Tier 1 and Tier 2 Mexican company with more than 60 years of experience in the automotive industry for aluminum high pressure die casting and semi-permanent mold components, as well as plastic injection components. It has plants in the US and Mexico, and offices abroad.
Read more:
Bocar: Anticipating Customer Needs to Sustain Growth (mexicobusiness.news)